IGeoS - Integrated GeoScience data analysis
IGeoS is a highly integrated software package used for many seismic processing tasks in a wide range of geophysical, and ultimately geoscience data analysis. It is being continuously developed since mid-1995 by Igor Morozov, now at UofS seismology, as a framework for integration of geophysical software.
Previously, the system was called SIA. We have changed the name to IGeoS to reflect the broader (no longer strictly seismic) orientation of the package.
In our research, we use many types of geophysical data, all of which are being managed and processed in IGeoS:
Reflection and refraction seismic records in complex 2-D and 3-D survey geometries,
Multicomponent seismic datasets;
Local to ultra-long range earthquake and nuclear explosion seismic records,
Real-time (Internet seismic network) data management;
Ground Penetrating Radar records;
1-, 2-, and 3-D seismic waveform simulations.
Travel-time curves, surfaces, and tables,
Various types of velocity and density models,
2D and 3D potential-field datasets.
IGeoS can also be viewed as a framework for integration, development, and maintenance of geophysical software.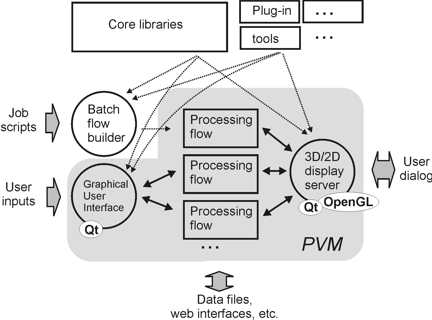 General architecture of IGeoS system
Examples:
Here are some examples of applications using interactive 3D visualization:
In current development:
Well-log handling, transformation, and analysis package;
Amplitude Variation with Offset (AVO) package;
Package for direct handling of 3D and 4D reflection seismic data;
Complete refraction statics package (automatic and manual picking, quality control, and inversion);
Attribute extraction and Empirical Mode Decomposition on 2D potential-field grids;
3D parallel visco-elastic finite difference simulator with arbitrary surface topography;
3D generalized cylindrical screen propagator;
Uniform database interface (internal and for SQL-based external databases);
Real-time data acquisition and processing;
Streamlined configurations and demo sets for exploration industry applications.
I invite contributions from others on the above and other topics.
Key features:
Web services:
Reference information:
Distribution, installation, and administration:
The system had been extensively used on Solaris, SGI Irix (batch modes only), and more recently on Fedora 6-11, Mandrake, Mandriva, Red Hat Enterprise, and SUSE Linux, on several Intel and AMD laptops, desktop workstations, and clusters (both 32- and 64-bit), Mac OS X or Ubuntu 9.
Solutions for maintaining multiple binaries for different architectures from a common source code are provided.
Note that the code distribution below is provided by two live IGeoS installations on 32-bit and 64-bit Linux machines which are also being used in processing data.
Installation instructions and map
Recent presentations about the IGeoS system:
---
---
Copyright (c) 1995-2019, I. B. Morozov

This document updated May 05, 2019